---
University of Northern Iowa
College of Humanities, Arts and Natural Sciences
---
Dr. Martin Chin
<![if !vml]><![endif]>
Department of Chemistry
University of Northern Iowa
Cedar Falls, Iowa 50614-0506
Phone: (319) 273-7898
Office: MSH 3753
Fax: (319) 273-7127
Email: martin.chin at uni.edu
---
Education:
Ph.D. University of Rochester, 1994
M.S. University of Rochester, 1991
B.S. Lehigh University, 1989
Interests
Inorganic and Organometallic Chemistry
We are currently interested in using doubly linked cyclopentadienyl ligands to hold two metal centers next to each other. The resulting dinuclear complexes will be tested as catalysts for small molecule activation and functionalization.
<![if !vml]>

<![endif]>
The preferred metal is ruthenium with rhodium and iridium making occasional guest appearances. We have been able to prepare a series of ruthenium complexes as shown below.
<![if !vml]>

<![endif]>            <![if !vml]>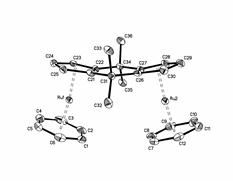 <![endif]>
The reaction was initially performed in the converted domestic microwave oven connected to a pressure transducer and control system to prevent overpressurization of the reaction vessel. Crude but effective.
<![if !vml]>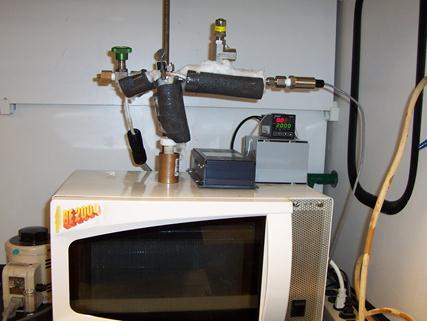 <![endif]>  <![if !vml]>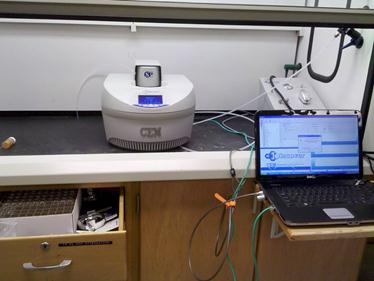 <![endif]>
We have now gone big city and the reaction is now performed in a CEM Discover microwave, shown on the right.  A huge step up in performace.
Reaction with LiAlH4 yields the corresponding bisdienyl complex.
<![if !vml]>

<![endif]>            <![if !vml]>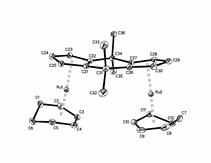 <![endif]>
Protonation with HOTf yields the hexakisacetonitrile complex.
<![if !vml]>
<![endif]>
Selected publications
"Selective Dialkylation of a Doubly Linked Dicyclopentadiene Ligand and the Resulting Ruthenium Complexes" Fier, P. F.; Reinig, R. R.; King, J.; Dickerson, C.; Doucoure, M.; Brennessel, W. Organometallics, 2012, 31, 261-267.
http://dx.doi.org/10.1021/om200854n
"Syntheses and Characterization of Ruthenium Complexes Containing a Doubly Linked Dicyclopentadienyl Ligand and Acetonitrile Ligands" Chin, R. M.; Simonson, A.; Mauldin, J.; Criswell, J.; Brennessel, W. Organometallics, 2010, 29(17), 3868-3875. http://dx.doi.org/10.1021/om100566w
"Syntheses and characterization of iridium and rhodium complexes containing a doubly linked cyclopentadienyl ligand" Chin, R. M.; Maurer, D.; Parr, M.; Allworth, N.; Schwenker, R.; Sullivan, D.; Enabnit, S.; Brennessel, W.  Inorganica Chimica Acta , 2009, 389-394. http://dx.doi.org/10.1016/j.ica.2008.04.025
---
---
Martin Chin / Department of Chemistry / UNI /

martin.chin

at uni.edu